The Roots & Live Nation Urban Announce The 2023 'Roots Picnic' Weekend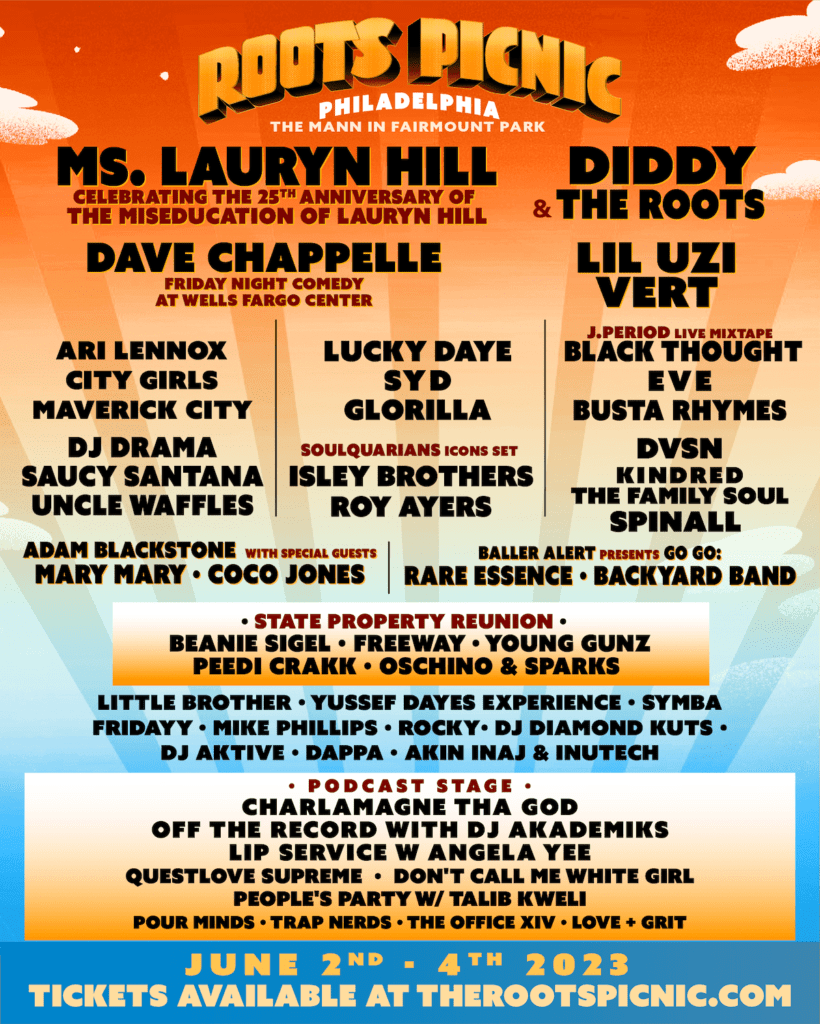 GRAMMY Award-winning multiplatinum hip-hop luminaries The Roots and Live Nation Urban revealed the details for the 2023 installment of "Roots Picnic" today. Renowned for its complete musical and cultural immersion, the two-day festival will be back at The Mann in Fairmount Park in Philadelphia, PA on Saturday and Sunday, June 3-4, 2023. This year, a special stand-up comedy performance from Dave Chappelle and The Roots at Wells Fargo Center on Friday, June 2 will kick off the weekend. A fan club presale launches tomorrow, February 21 at 12PM ET, and general on-sale follows on Wednesday, February 22 at 10AM ET. Weekend tickets and VIP packages will be available HERE.
This year marks a very special first as multi-GRAMMY Award-winning legend Diddy will headline the festival with The Roots delivering a set highlighted by decades of his definitive hits. Additionally, Ms. Lauryn Hill will co-headline and perform the entirety of The Miseducation of Lauryn Hill – a rare event– to celebrate the 25th anniversary of the seminal album's release. Award-winning American comedian, screenwriter, television and film producer, and actor Dave Chappelle will make his "Roots Picnic" debut performing with The Roots on what promises to be a seismic, first-ever comedy set of this magnitude. The impressive line-up also hosts a massive celebration of Philadelphia talent including a headline set from Lil Uzi Vert, the return of Eve during Black Thought's Live Mixtape set, DJ Drama, Kindred the Family Soul, a State Property Reunion, and more. Check out the full confirmed lineup below.
Offering an inimitable experience, "Roots Picnic" also invites crowds to enjoy the fan-favorite Podcast Stage which will be headlined by live podcasts from Charlamagne Tha God and Off The Record with DJ Akademiks in addition to Don't Call Me White Girl, Lip Service with Angela Yee, People's Party with Talib Kweli, and of course, Questlove Supreme. The concourse also boasts various activations and engagements, ranging from film to social justice.
"Roots Picnic" has continued to be one of the summer's most highly anticipated festivals and a celebration of Philadelphia's robust music scene. Over the years, it's been named one of UPROXX's "Best Festivals For Hip-Hop Fans Of Any Generation" and lauded as "a major staple within the Black community." Billboard included the Roots Picnic in their Top 50 Music Festivals round-up, and perhaps BET put it best, "the two-day event proves why hip hop is such a regenerative force of nature."
Since launching in 2007, The Roots Picnic has stood at the crossroads of music and culture, entertaining, engaging, and enlightening millions of fans along the way. Its dynamic lineups have included everyone from The Weeknd, Pharrell, Snoop Dogg, Phantogram, Usher, Nas, A$AP Rocky, Macklemore & Ryan Lewis, and Future to Vampire Weekend, The War on Drugs, Gary Clark, Jr., Solange, Diplo, Gnarls Barkley, and more. "Roots Picnic" isn't just a cornerstone of the group's career, but a cornerstone of the culture.
To see the full lineup for the weekend, click here.