Megan Thee Stallion Is Back Outside & The Streets Are Elated For The Rapper's Return [Gallery]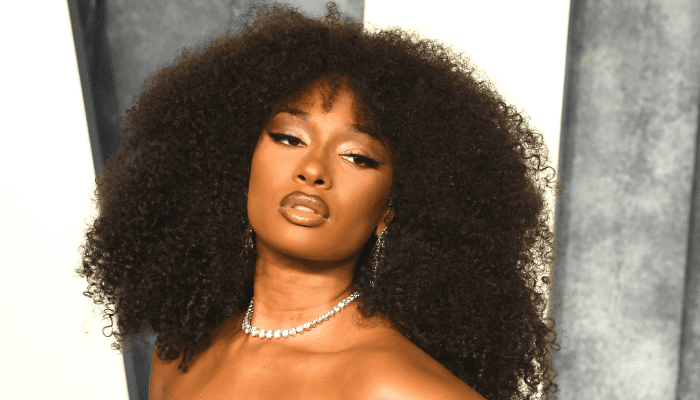 Grammy award-winning artist Megan Thee Stallion is back outside and here to stay! The Houston hottie made her return back to social media just two weeks ago after a nearly fourth month hiatus. It appears that the rapper is back in full swing, making appearances and showing off her beautiful assets, but does that mean new music soon? Check out a gallery of our favorite Megan Thee Hottie "back outside" posts inside.
The last post fans received from Megan Thee Stallion was her beautiful Forbes '30 Under 30′ cover. She posted the historic  cover with a caption saying, "First BLACK WOMAN on thee cover of @forbes 30 under 30 🔥 real hotgirl shit 💵💵 see you soon hotties love yall." That is, until she never returned again.
Ok, that may be a wee bit dramatic, because she actually returned two weeks ago with a series of stunning photos from her Vanity Fair party look. The caption was a simple tea cup. Fans applauded the rapper's comeback saying, "the Queen is back" and that she left the other rap girlies shook. One fan said, "Baby I was tired of holding the knees down by myself." Many of her fans missed her and are happy to see she's back and looking even better than before. (As if that were even possible)
Megan hasn't confirmed why the four month social media hiatus was warranted, but most fans could assume the infamous trial between her and rapper Tory Lanez might have had something to do with it. Though Megan and her attorneys prevailed and the Canadian artist was found guilty of his charges, maybe she needed a little break from the spotlight for a moment to regroup and hit the ground running.
That's exactly what she's doing. Meg was recently seen in her hometown, throwing the first pitch at the Houston Astros first game of the season.
Despite being released from her contract at 1501 Certified Entertainment, CEO Carl Crawford called Megan iconic and welcomed her back to the city of Houston for a series of performances at the AT&T Block Party and NCAA March Madness Music Festival at Discovery Park. Crawford goes on to share in the statement, "if you think you saw Me perform before, think again!"
Looks like everyone's excited for the Queen's comeback.
Check out our favorite Meg moments back outside below:
1. Stunning At The Vanity Fair Function

Source:Megan Thee Stallion
2. Natural Beauty

Source:Megan Thee Stallion
3. Runnin' Thru The White House Like A…

Source:Megan Thee Stallion
4. Megan Been In The Gym Inspiring The Gworlsss

Source:Megan Thee Stallion
5. One of a Kind In Timeless Pieces

Source:Megan Thee Stallion
6. Houston Hottie's Back Home

Source:cjzero
7. Please Never Leave Us Again

Source:VERONASFILMS