Legend Making Legends: Marla Gibbs Says "It's Never Too Late" To Make Your Dreams Come True, Empowering The Next Generation of Greats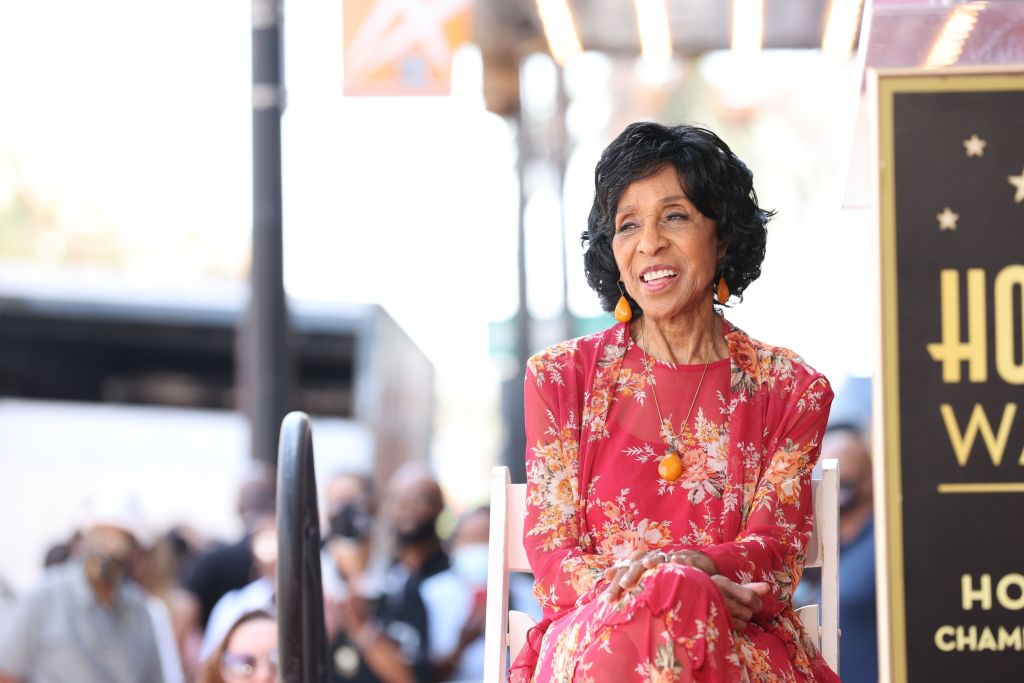 Five-time Emmy nominated actress Marla Gibbs is a living legend, who has influenced a generation of hilarious comics and entertainers. The belief she had in herself early on to pursue her lifelong dream of becoming an actress is one of the reasons she has inspired countless other Black actors to imagine their dreams are possible too. Read more about Gibbs' fruitful career and how she's a legend making legends inside.
Gibbs is best known for her role as Florence Johnston in Norman Lear's "The Jeffersons," a spinoff of Lear's hit sitcom "All in the Family." The 91-year-old beloved actress lives by the motto, "It's never too late." In an interview with The Hollywood Reporter February 2022, Gibbs shared that she finished her book titled It's Never Too Late.
"That's my story," Gibbs shared about her journey in TV. "And I'm sure it's a lot of other people's story. I'm sure it should be encouraging to a lot of people who think it's too late. I really got it from a lady that came up to me and said, 'Ms. Gibbs, I always wanted to act. You think it's too late?' I said, 'Are you still breathing? If you're still breathing, it's not too late.'"
Gibbs began her journey in the industry when she was 44 years old after relocating from Detroit to Los Angeles. The Chicago native was divorced at the time with a few credits to her name when she auditioned and landed a role on a new CBS sitcom that would go on to change her life.
Her role as Florence, the housekeeper to a successful Black family living on New York's Upper East Side, showed Hollywood that she was a talent amongst the many key players on the show. Gibbs acted alongside comedic giants like Sherman Hemsley, Isabel Sanford, Roxie Roker and Franklin Cover, who she admired and greatly enjoyed working with.
However, real "The Jeffersons" fans know that without Gibbs brilliant comedic timing and deliver, the show would not have been as successful as it was. The gifted actress was nominated for an Emmy five times for Supporting Actress in a Comedy Series for her role in the show. Unfortunately, she was snubbed back-to-back. Gibbs never really cared much for the awards and found that creating and doing the work was the accolade.
"I've been a bridesmaid [at the Emmys] five times," the adored actress recollected. "But I've never been a bride. I didn't think it was important. That shows you where my head was coming from, coming out of Chicago and Detroit. I said, 'The work is its own reward.' Now I understand better. Because I understand the business."
The star went on to shine bright in her own sitcom with NBC's "227," which ran from 1985 to 1990. Gibbs starred and produced the beloved sitcom, which introduced the world to skilled entertainers Regina King and Jackée Harry.
Though Gibbs gave a lot of her time to the "The Jeffersons" for 11 season, she was motivated to create something of her own, which was more relatable to her personal story. She told The Hollywood Reporter that she and Lear had their differences over the direction of "227." She initially produced it as a play, written by Christine Houston, and owned the rights. Gibbs later sold it to Norman, who she had built a longstanding relationship with in the business.
"He didn't want any actor of his to also be a producer," Gibbs recalled of Lear. '"Actors act, producers produce,' he used to say. But I wanted to be executive producer. He refused. In the end, I didn't get the money, I didn't get the billing — but I got all the rights of a producer. I had final say on hair and wardrobe."
Gibbs stuck to her wits when creating her own series and thank goodness she did.
"I hired Jackée," Gibbs recalled in the interview. "Who had an awesome audition. Then she ended up getting the Emmy."
The 227 star fought tirelessly for actors she believed in like Jackée and even a young 14 year old King, who Gibbs had worked with before the show. In an interview with Essence, Harry reflected on how she treated a young Kenya Barris, who served a script runner on the show. Gibbs empowered many of today's great storytellers as a producer and actress.
Gibbs was also determined to keep the show relevant to her fans and core audience.
"In 227, the network wanted me to own the building," Gibbs remembered. "I said, 'I will not own the building. That makes me one of the haves. I don't know what that would do to my career. And I'm not willing to find out. I'm one of the have-nots.' My romance with the people is that I'm one of them."
When Gibbs was growing up in the 40s and 50s, there weren't many Black actresses she could look up to, but she does mention Guess Who's Coming to Dinner star Beah Richards as someone she admired. The journey came full circle when Richards played her mom on "227."
Gibbs' impressive resume now has dozens of credits and she has come a long way from where she started. In 2021, the actress received her star on the Hollywood Walk of Fame, literally cementing her as one of Hollywood's biggest talents.
Most recently, Gibbs reprised her role in a surprise appearance on ABC's 2019 special Live in Front of a Studio Audience: Norman Lear's 'All in the Family' and 'The Jeffersons.' She also appeared in Season 19 of ABC's hit procedural drama "Grey's Anatomy," "Grey's Anatomy" spinoff "Station 19,." and she had a major recurring role on the famous soap opera "Days Of Our Lives."
Let's give our living legend Marla Gibbs her flowers while she can smell them. She has put other talented actors in position like Harry and King, who have gone on to create a name for themselves apart from Gibbs' creations.
Happy Black History Month to Gibbs — the incomparable legend making legends!