Jhené Aiko, Khalid & Nardo Wick Highlight This Week's New Music Roundup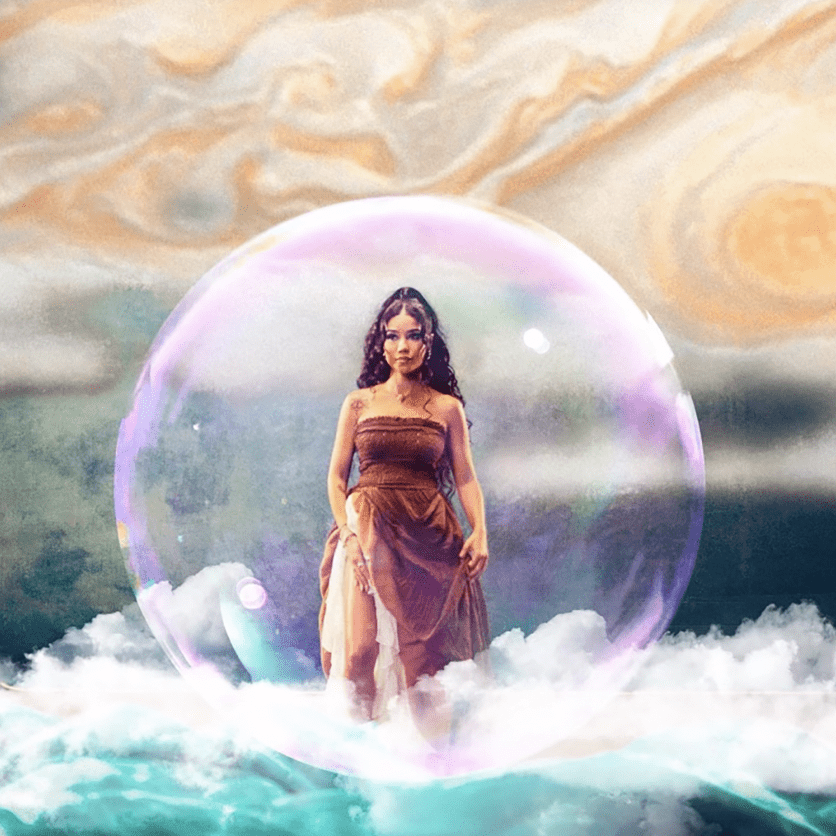 1. Johnny Cocoa – Prayerful Thoughts

Source:johnnycocoa_
The music video arrives on the heels of last weekend's release of the I AM WHO I AM Chopped & Screwed EP where he teamed up with DJ icon and fellow Texas legend, OG Ron C for a signature Southern remix of the album.
Johnny's "Prayerful Thoughts" visual, set an empty rooftop against the city skyline, swiftly moves between contemplative close ups of Johnny riding through the city to atmospheric shots of his hometown and community. Johnny delivers a melodic flow telling the story of his aspirational goals breaking out into the music industry, giving back to his family and hometown being at the core of his mission, and the relentless dedication and spiritual roots that continue to propel is journey forth in getting there.  
2. Jessa – saying I'm fine

Source:rufkmjessa
Bronx-bred alt-r&b artist
jessa
reveals her vulnerable new single "
saying i'm fine
," an escapist's dream which solidifies her position as one of the most relatable songstresses in this year's class of rising artists. jessa's most personal inner-thoughts take form as a hazy stream of consciousness, as listeners witness her idea of what it looks like to achieve happiness change in real time. Brooklyn based producer and frequent collaborator
Invisible Will
(Anna Shoemaker, Ricky James) creates the perfect, breathy soundscape for jessa's soft vocal lines and soulful delivery, as she comes to the conclusion that you can't chase happiness; instead, it comes from loving yourself at your core.
"I could get better at being alone / vow to give up staring down at my phone / I bet I would never even get sad / I could stop chasing what I never had" – lyrics from jessa's "saying i'm fine"
Speaking on the new single, jessa says, "When someone asks how you're doing, why do we always feel obligated to say we're fine, even if we're struggling? I feel like I've been on autopilot for a long time; it's a tactic I use to cope with having intrusive thoughts. Instead of searching for an external source of happiness, I've been trying to get better at finding happiness by being my most authentic self. I've been practicing intentionality with everything I do, which has allowed me to feel like I'm finally coming into myself on a personal level."
"saying i'm fine" follows jessa's latest single "
TUFF
," which was premiered via
Vice's Noisey
. Her willingness to share her vulnerability through her fervent vocal lines and sincere delivery culminates into an alternative pop/r&b sound that is unique to her artistry. It's safe to say that the rising artist isn't afraid to wear her heart on her sleeve, delivering introspective messages that every twenty-something can relate to. 
3. Quin NFN & Money Man – Revenue

Source:quinnfn_
Fresh off his SXSW performances and the release of his newest album Never On Time, it's evident that Quin NFN is all about increasing his "Revenue." Quin teams up with Money Man to talk wealth and playmaking in the industry. "Revenue" is a notable track from the album Never On Time as it's one of the few tracks to have a feature. 
Money Man's verse is about not going out of your character just to acquire bread. He tells his competition that the hustle isn't for them and that they should go to college. The trap isn't for everybody, but Quin NFN and Money Man made the most out of their tough times. 
"Revenue" is a statement from Quin to the game that signifies why the game should bank on him to be the next superstar from Austin, TX. 
4. FNF Chop – Feb 17th

Source:fnf.chop
23-year-old Richmond, VA rapper FNF Chop shares his "Feb 17th" music video via RCA Records. "Feb 17th" is a part of the 13-track project, Who Is Chop?, released earlier this month. From the luxurious cars to lavish mansions, "Feb 17th" is a testament to Chop's hard work and dedication. This new music video joins previously released videos, "Danger," "Yea Yea Yea," "Eenie Meenie," and "Repeat" featuring Fivio Foreign. 
FNF Chop made his label debut with EP No Way Out. The EP features singles "One Two" featuring YungManny, "Best Friend" featuring North Carolina rapper Stunna 4 Vegas and his viral hit "Walk Down" featuring Young Nudy and Sheff G. Chop's music is full of high-octane energy. He delivers gritty bars over hard-hitting bass instrumental beats. The 7 track project arrived alongside a new visual for "Fireman" which premiered on The FADER. "Don't ever count out FNF Chop. When the Richmond, Virginia rapper has his back to the wall, he'll always find a way to turn the tide in his favor" says The FADER about FNF Chop. 
5. DameDot – MADE MAN

Source:rgs_damedot
Detroit's DameDot proves again why he's a Made Man in his newest album, released through EMPIRE. The 24-track album is a display of DameDot's luxurious raps blended with his signature Detroit drill rap sounds. 
The last time hip-hop heard from DameDot was his most recent visual release for "GETAWAY," which garnered 145k views within the first week of release. Made Man shows almost every side of DameDot. Although it's mostly a solo project, it has a few features from the likes of Doughboy Clay, Young Will, Yung Reef, and Ravin Lemar. 
This large body of work has a variety of different sounds from Doughboy Clay's soulful vocals on the braggadocious song "IN LOVE WIT MONEY" to an ominous drill cadence-filled song in "SINNING". 
DameDot shows introspection as he assesses what's going on around him in "KINGS AND QUEENS." He opens the song with lines such as "I feel like we cool enough for me to ask some questions. Why do all these women use they sex as a weapon? Why do you got to show your whole body for attention? You do realize we be laughing in them mentions?" He questions how people chase social media clout rather than pursuing money after being hurt by a former lover. He even questions men on why they flash money in their pictures and live by a kill-or-be-killed mentality rather than making long-term emotional and financial investments.
The Fader summarized DameDot's sound in a recent article by saying, "listening to his music, you'll hear an unpredictable blend of mafioso raps, free game, throwback samples, and flexes absurd enough to make you pause the track to make sure you caught what he said… There's a Damedot song for almost every mood imaginable." 
Made Man is DameDot's eleventh solo project and based on this body of work, it looks like DameDot has a lot more left in the tank.
6. Bloody Civilian – I Don't Like You

Source:bloody__civ
Bloody Civilian, the Nigerian singer/producer/storyteller who hit a worldwide nerve with her fierce debut single + video, "How To Kill A Man," strikes back with "I Don't Like You," her brand new single available via Def Jam Recordings/0207 Def Jam UK.  
An upbeat, fiercely energetic Afro/pop anthem, "I Don't Like You" will be included on ANGER MANAGEMENT, Bloody Civilian's upcoming EP, set for release in May, and also containing "How To Kill A Man."  
"How To Kill A Man" combined Bloody's innate penchant for instantly punchy, satirical hooks with sweeping melodies into a fully formed and startingly powerful statement that is singular in nature.  "Life isn't fair for anyone," she said, "and when I find myself being angry, I try to find ways to not take myself too seriously… basically, I find ways to laugh and feel ridiculous about my anger and that inspired me to write 'How To Kill a Man.'"  
"How To Kill A Man," released October 28th, was followed one week later by the arrival of the Black Panther: Wakanda Forever – Music From and Inspired By soundtrack album via Roc Nation Records/Def Jam Recordings/Hollywood Records, which included Bloody's "Wake Up" featuring Rema.  
The soundtrack album's 19 tracks presented more than 40 international artists recorded in Lagos, Nigeria, Mexico City, London and Los Angeles, headlined by Rihanna's record-breaking, historic smash "Lift Me Up."  
7. Nems & Scram Jones ft. Uncle Murda & Dave East – NY Is Killing Me

Source:nems_fyl
In 2022, NEMS broke through in a major way; social media sensation, securing brand deals with Puma and Monster Energy Drink, launching his own Podcast, Outside With Gorilla NEMS, which airs on the Revolt Podcast Network, he completed Seasons three and four of The Crew League Basketball and appeared on three episodes of Wild N' Out.
NEMS closed out 2022 with a bang as well, specifically, his bucket list collaboration with Ghostface "Don't Ever Disrespect Me," and its corresponding video which was released in January. 
Now, "Bing Bong," NEMS is back with a new video for his latest single "NY Is Killing Me," which also features Dave East, Uncle Murda & Scram Jones.  You can watch the new visual for "NY Is Killing Me" below. 
"NY Is Killing Me" is taken from NEMS forthcoming collaborative album, Rise Of The Silverback, with Scram Jones which will be released in the 2Q of 2023. 
8. Chris LaRocca – deep end

Source:chrislarocca_
Canadian producer, singer-songwriter, and multi-instrumentalist Chris LaRocca today released the first single off his forthcoming EP, perhaps! out May 5. Setting the tone for the project, "deep end" encapsulates LaRocca's eclectic sound, pulling in elements of DIY production, breezy R&B, and pop-inspired harmonies. His ability to consistently re-invent without straying from his ingenuity immediately attracted Grammy-nominated producer WondaGurl, who has signed LaRocca to her burgeoning imprint Wonderchild in partnership with Red Bull Records. Launched in 2021 with the inaugural signee and Toronto rapper JUGGER, "deep end" marks the first official release to emerge from the label, with more genre-bending music and trailblazing artists to come this year.  
LaRocca shares, "'deep end' is an ode to the relentlessness of the music industry. It flips the notion of the body being a temple on its head and suggests that the body is rather a vessel for success – as artists, producers, songwriters and everything else, we put ourselves through hell for our art: sleepless nights, vices, not eating, all things we go through to get the most out of ourselves while working and to stay present. I felt like I was truly in the deep end of all the above while working on this project, and this song being one of the last ones I wrote for the project felt like it really summed up the process for me." 
LaRocca is one of the most exciting artists to emerge from Toronto's creative scene. Self-taught, his experimental repertoire can be best described as organized chaos made for sweaty basement shows and polished studios alike. Behind the scenes, LaRocca has an impressive track record of writing and producing for tastemakers like Kali Uchis ("Deserve Me ft. Summer Walker"), Bryson Tiller ("I'm Ready For You"), Boslen ("LEVELS"), and more. With his anticipated EP, perhaps! in the wings, 2023 is shaping up to be an explosive year for Chris LaRocca. 
9. HDBeenDope – Locked In

Source:hdbeendope
Roc Nation's Brooklyn rapper HDBeenDope dropped his latest single "Locked In" co-produced by multi-platinum music producer Dizzy Banko.. His latest single delivers the rapper's signature rapid-fire bars and high energy beat that fans have expressed their hunger for.  
"The song is about getting focused and connected, it comes from a time where I had to know the end result before anybody else did," said HDBeenDope. "Locked in is just the energy."
Teased last month, "Locked In" continues to amass millions of views on TikTok which features HD, his crew and producer Dizzy Banko wrapping up a studio session with the final mix. The Roc Nation artist kept fans swarming with a digital campaign that challenged followers to unlock a ROC-approved release date last week, building sweeping demand for the track after its teaser introduction earlier this year. 
To commemorate his latest single, the artist is celebrating his New York roots by giving back to his hometown community in Brooklyn at the Ifetayo Cultural Arts Academy where he will be hosting a pop-up performance and giving away school supplies and merchandise to students. 
With recognition from the BET Hip-Hop Awards, co-signers such as DJ Khaled and Rapsody and many others, the Brooklyn Native's breakthrough return follows his 2022 EP project, What Can They Say, also produced by Dizzy Banko, which marked HD's debut as a signed Roc Nation artist. Today's new track release also builds on the massive success of What Can They Say's lead track, "Mamba" which has slowly become an anthem being celebrated and shared by actress and entrepreneur Tia Mowry,  NBA Miami Heat player Jimmy Butler, major networks like ESPN, and sports stadiums across the country. 
With the co-signing support of music icons like DJ Khaled and major producers like Earl On The Beat (prod. For Megan Thee Stallion, Migos, Lil Yachty) championing his work, the artist continues to attract the attention of other major influences in the rap game. HD's steady climb up the New York hip-hop scene is propelled by his wide range of self-directed music videos, dynamic musical concepts of his alter ego, hard-hitting lyricism, and magnetic storytelling.  
10. Khalid – Softest Touch

Source:thegr8khalid
Multiplatinum selling global superstar Khalid releases his new single "Softest Touch" via Right Hand Music Group/RCA Records. The moody offering is wrapped in Khalid's irresistible soulful vocals and sonically lush production. 
 "Softest Touch" follows previously released singles including the vibrant "Satellite" and dreamy "Skyline." This spring/summer, Khalid will be joining Ed Sheeran on his "+ – = ÷ x Tour" playing major stadiums in select cities across North America.
Khalid says, "I'm so excited to finally give my fans a surge of new music!! I'm currently gearing up for tourwith Ed Sheeran and continuing to write and record new music that I can't wait to share with the world. "Softest Touch" is the beginning of what's to come. I hope you all enjoy it!"
11. Nardo Wick ft. Lil Baby – Hot Boy

Source:nardowick
Breakout Jacksonville rapper Nardo Wick returns with his new single "Hot Boy" featuring Lil Baby via Flawless Entertainment/RCA Records. Directed by Dell and Nardo himself, the visual was shot in Nardo's hometown of Jacksonville where whole city pulled up to support Nardo. Most recently, Nardo was nominated for "Best New Hip-Hop Artist" at the 2023 iHeartRadio Awards.
12. Jhené Aiko – calm & patient

Source:Jhené Aiko