It's Game Time At The Grid: TRON Lightcycle / Run Delivers #AllTheDisneyThrills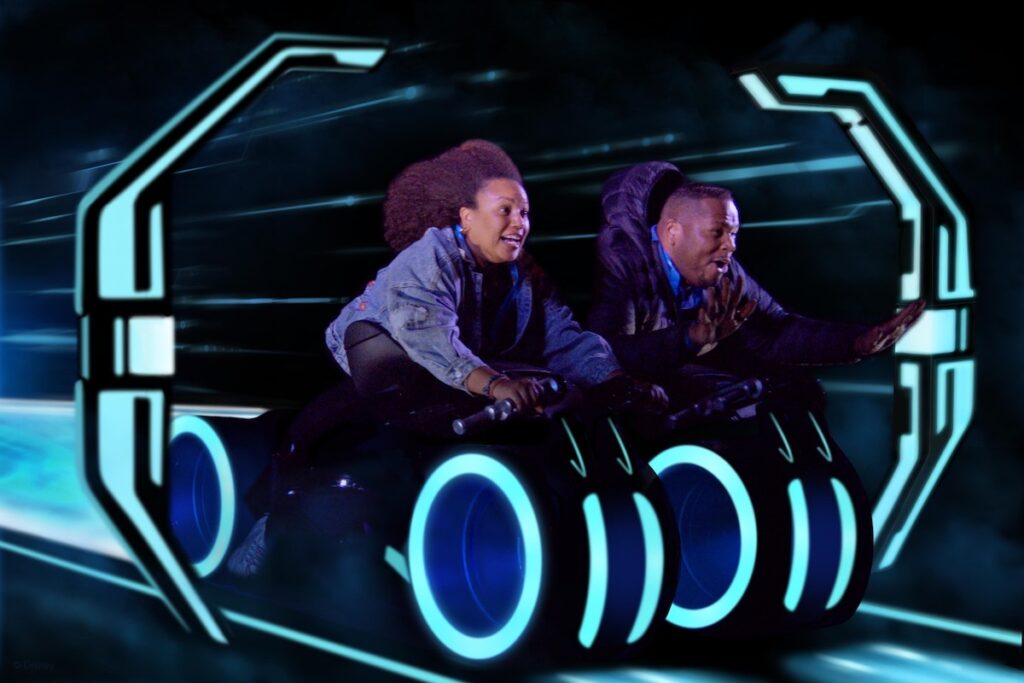 Tomorrow Magic Kingdom at Disney World Resorts in Buena Vista, FL will officially open their newest attraction at Tomorrowland TRON Lightcycle / Run presented by Enterprise.
Our Sr. Content Director, Janeé Bolden was lucky enough to preview the ride early as part of the recent #AllTheDisneyThrills media experience and she's got the scoop on what to expect from the ride.
First things first, TRON is a little different from most rollercoasters because instead of sitting in a seat and buckling in, you're atop a lightcycle and your legs and torso are secured when you move forward using the handles. There a couple of modified seats at the back of the ride if you're unable to ride this way. No worries though — we had a friend who tried the seats at the back and were assured that you feel the speed just as much as you would on a lightcycle.
Keeping in mind that you won't have a seatback to secure your stuff you're also going to want to utilize the lockers that are located at the beginning of the attraction. Make sure to leave anything that might blow away and definitely don't try recording on this ride — you're likely to lose your phone. Good news though, the ride is equipped with a photo pass feature that will capture parts of your ride and give you both photo and video footage from the experience.
There's a lot to love about TRON Lightcycle / Run presented by Enterprise. The futuristic design is really coo and there's a competitive aspect with #TeamBlue vs. #TeamOrange gameplay. We really loved how the ride accelerates at the beginning and then you are swept through "the grid" which takes you both through a lighted inside portal where music plays as well as outdoors. We really enjoyed taking the ride at night.
Check out a video capturing our experience below:
The great part is that even after you leave your Walt Disney World vacation you can take a piece of TRON Lightcycle / Run with you. We stopped by the attraction's gift shop to check out the merch and there was a ton of great stuff, including apparel, action figures and interactive backpacks and speakers.
Cool right?
Just before tomorrow's launch, Disney World announced they are donating $100,000 to help enhance STEM education in Orange County Public Schools.
"We can always count on Disney to provide for our schools and students in innovative, fun and thoughtful ways. This generous donation will help our teachers bring STEM to life in the classroom and will help provide our students with experiences they'll treasure for a lifetime," said Orange County Public Schools Superintendent Dr. Maria Vazquez.
"This continued commitment ensures that our future innovators receive the skills and hands-on experiences they need to dream about their futures, build their talents and become who they imagine they can be – which could one day lead them to a career at Disney," said Rena Langley, Senior Vice President of Communications and Public Affairs at Walt Disney World Resort.
You guys may recall that Walt Disney World has been observing its 50th Anniversary celebration which was filled with so much community magic. Over the past 18 months, the park has given away more than $6.5 million in grants to 60+ nonprofits, and Walt Disney World cast has personally volunteered more than 233,000 hours at local organizations through our Disney VoluntEARS Program.