Chris Brown, Serayah & Jim Jones Highlight This Week's New Music Roundup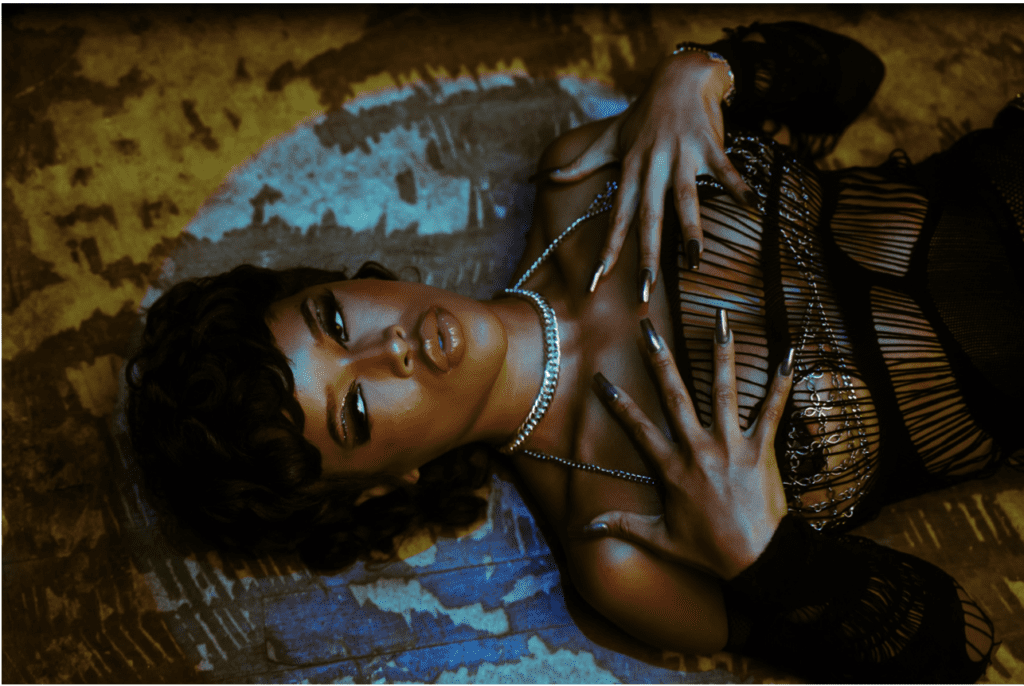 1. Chris Brown ft. Jack Harlow – Psychic

Source:chrisbrownofficial
Grammy-winning phenomenon Chris Brown drops the video for his track "Psychic" featuring Jack Harlow and starring Cassie. Directed by Cameron Dean, the visual has expansive vibrant settings from a futuristic city to the ending water dance sequence. Brown is currently on his sold-out UK/European Under The Influence headline tour. The tour includes four nights at London's renowned O2 Arena, two nights at Accor Arena in Paris, two nights at Ziggo Dome in Amsterdam and more.
2. Serayah ft. Village Boy Prince – Love Or Die

Source:serayah
The multifaceted Musical Artist, Actress, Dancer, SERAYAH, releases her much anticipated single, "Love or Die" featuring Village Boy Prince from her upcoming EP. The song is about finding love at first sight, which is so cliche but nothing about her relationship is cliche, Serayah says. 
3. Kayla Nicole – I Hate It Here

Source:kaylanicolejones
Produced by Deraj Global, the piano-laden ballad confronts toxicity head-on with Kayla delivering some of her most empathetic, honest, and hard-hitting lyrics yet. About the single, Kayla commented, "I knew way too many people in toxic situations similar to one another, even an older version of my teenage self, and I felt bad for us. I needed to say what was necessary but not harsh—just honest and insightful. Oftentimes, we are caught in the 'I would never, until I did' cycles of life and don't find our way out accordingly. A song like this is a reflection from the heart of a person who is aware of their own self-sabotage in following their fearful, yet faithful, heart instead of listening to their yearning soul. You don't wanna miss you 'back then,' when you could cherish you now.
4. Jim Jones & Hitmaka – Seen The Money

Source:jimjonescapo
As seen on WSHH, Jim Jones and producer Hitmaka dropped a lavish visual for "Seen The Money" Capo raps about his luxurious lifestyle over Hitmaka's production led by the Alicia Keys "You Don't Know My Name" sample. Jim can be seen popping bottles on a yacht in Miami Beach and stacking his bread like a Jenga tower. 
Jones reflects on his current lifestyle and how his past lifestyle helped elevated his superstar lifestyle with the cadence: "We jumping out of Ferraris and private jets without a suitcase, 'cause we shop when we land, we got no top on the lamb, hood n***a, all white airs with no socks in the sand. I used to play with the keys, but the locks didn't jam. We was in, mama's kitchen playing with the pots and the pans…"
Jim Jones and Hitmanka have another video/single "I Am" featuring Stefflon Don releasing Friday and their Back In My Prime is scheduled to release in March. 
5. Jim Jones ft. Stefflon Don – Back In My Prime

Source:jimjonescapo
6. Conway the Machine & Sauce Walka ft. Juicy J – Super Bowl

Source:whoisconway
The road to Conway The Machine's major label Shady/Interscope Records debut, God Don't Make Mistakes, was undeniably impactful and incredibly redemptive.  Universally hailed by critics and fans alike, the album was also his commercial breakthrough, as God Don't Make Mistakes rose to the top of DSP charts and was also his highest-charting Billboard project to date.
While God Don't Make Mistakes was Conway's de-facto origin story, it will also serve as the bridge to the next phase of his already decorated career; highlighted by building his budding Drumwork Music Grouplabel, a collaborative album with rising Drumwork signee Jae Skeese (Pain Provided Profit which will be released on 3-10-23), and the announcement of his new solo album, Won't He Do It, which will be released on March 31. 
Along with his new album announcement, Conway also shared the album's first single "Super Bowl," which features Sauce Walka and Juicy J.  "Super Bowl" is now available. 
"Super Bowl" is just one of them ONES! Big rings, big ice on, big money, celebrating BIG WINS.  In life, you gotta be proud of yourself for all of your hard work paying off.  A win is a blessing, and you always gotta count your blessings" Conway proclaims.  "Shout out to my brother Juicy J, he sent me this hard ass beat, and I did a verse to it immediately. Then I'm like nah, what would REALLY be crazy is my bro Sauce Walka on it too! Sent it to bro, he smoked it, then I sent it to Juice Mane and he smoked it, and here you have it!"
Conway The Machine's new solo album, Won't He Do It, will be released on March 31. 
7. Cruch Calhoun – Soul'd Out

Source:cruchcalhoun
Hailing from Roselle, NJ, Cruch Calhoun found success as one of the early signees of Cinematic Music and its founder Johnny Shipes.  For the last few years, Cruch has been on his independent grind, touring and consistently releasing music; including with his frequent collaborator Dave East.
After releasing singles with Dave East ("Tapped In") and Maino ("Black Sheep"), Cruch Calhoun's new album, Soul'd Out, is now available.  Cruch also released a new visual for "Black Sheep" featuring Maino. 
Cruch Calhoun's new album, Soul'd Out, is now available.
8. Dyce Payso – Trap Bible

Source:dyce_payso
VampLife's own Dyce Payso speaks his New York gospel in his newest album Trap Bible. The album documents Dyce's rise to fame and stories of adversity in thirteen tracks. The last time hip-hop heard from Dyce was his latest single "Bling Bling" with Jim Jones and his freestyle on Funk Flex's show on HOT 97. 
The thirteen-track album starts with "Love Someone" which begins with a Donny Hathaway "Giving Up" sample. The sample sets up the beat drop where Dyce raps about never switching up and staying loyal to his hustle. It contains features from artists like Jim Jones, Dave East, Ugavell, Diddy Mak, Mr. Chicken, Sada, Millyz, and YellowTapee.
The song "Trap Bible" featuring Sada focuses on Dyce realizing when haters are around him and how disappointed he is about them. He raps that he never held hate in his heart because he focused on his bread. Dyce's low and deep vocal deliveries in his verses bring a sonic balance to Sada's high-tone cadences on the hooks. 
Some highlights of the album are "No, No, No" featuring Jim Jones and Dave East, "Traffic" featuring Ugavelli, and "Out The Mud". 
9. Jozzy – Songs For Women, Free Game For N****s

Source:jozzy
Multi-platinum songwriter and music visionary Jozzy steps into the artist spotlight with the release of Songs For Women Free Game for N****s, her debut EP out now via Sean "Diddy" Combs' Love Records. 
"Jozzy is a very special and dynamic talent that only comes around once in a generation, so I'm excited to see how her music sets a new standard for R&B," said Sean "Diddy" Combs. "Her skills as a writer and performer, matched with her style and energy has the potential to make her one of the greats and I'm proud to play a part in shaping the next chapter of her career." 
The release of Songs For Women expands Jozzy's musical impact and reach, and introduces the world to her own artistry in a way that shows why she is one of the great artists and tastemakers leading the future of R&B. The 8 track EP masterfully blends multiple genres — From R&B, soul and pop to hip-hop, alternative and contemporary music — culminating in a one-of-a-kind sonic experience that places Jozzy in her own unique musical lane. 
"This project is about sharing the true emotions women feel navigating relationships while giving men honest game at the same time," said Jozzy. "I understand both sides of the spectrum, because I have both masculine and feminine energy, which is why I believe the world will  relate to the entire body of work."