nyt club Opens Their Doors With 'NOT YOUR TYPE' Compilation – FUXWITHIT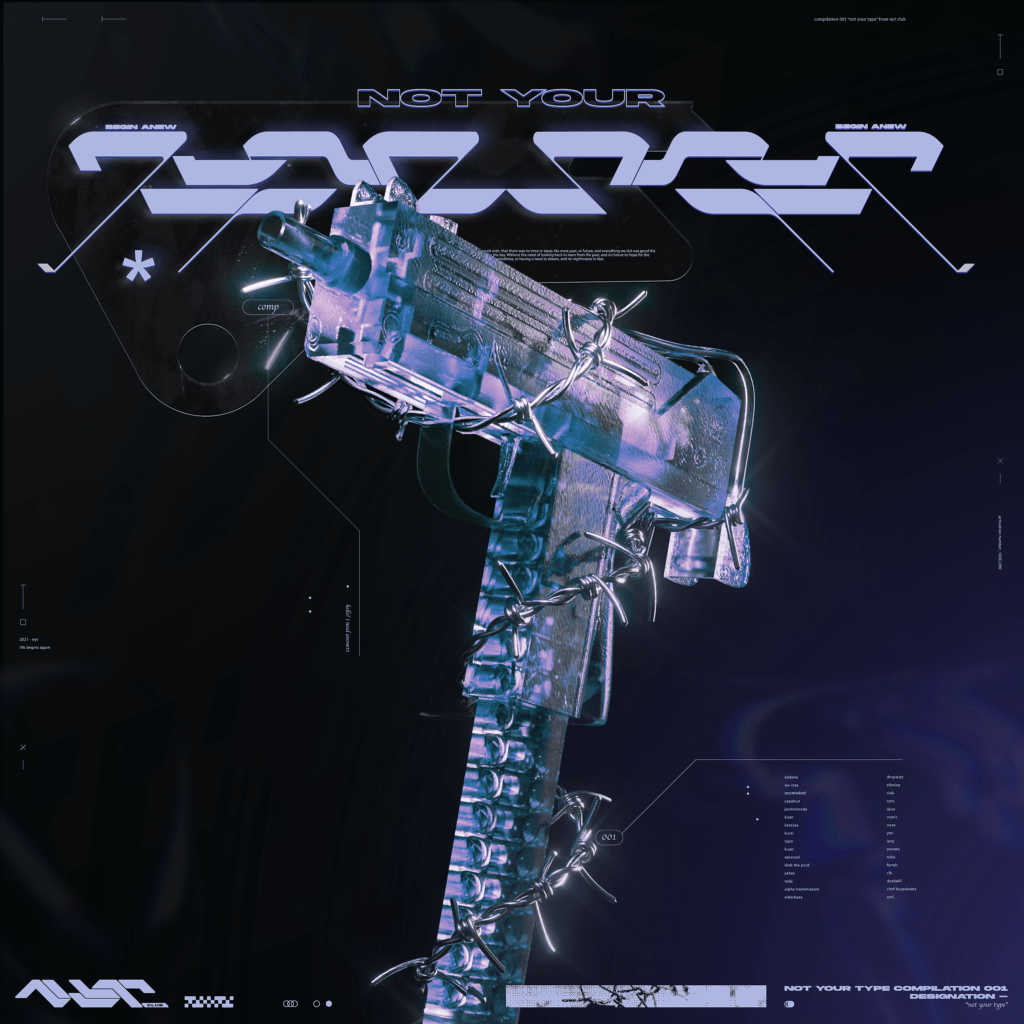 The nyt club is officially open! A new collective spearheaded by KADENA, Kizer, ELIMINA, & TYPO is finally ready to open their doors to the public and show off what they've been hard at work on; the NOT YOUR TYPE compilation, which is a massive 17 track compilation featuring some of the best artists on nyt club's stacked roster. nyt club is clearly looking to impress with their first release, and it's definitely turning some heads. Allow me to be your docent as I show you through the nyt club's NOT YOUR TYPE compilation.
To start the compilation, Deafadil's 'I Want It Now' brings in an absolute skanker of a drum & bass track, getting listeners on their feet and grooving. Deafadil's variation in 'I Want It Now' holds your attention and engaged in the track, letting him really flex his sound design here. Robu comes through with 'double digits,' which is a crispy, crunchy, trap 2 type beat that is sure to satisfy some cravings. ELIMINA's 'Cut You Off' is a smooth, ethereal trip that offers a nice balance to the NOT YOUR TYPE compilation. IANY drives the energy back up with 'CABRAKEN,' a pulse-pounding trap track that is reminiscent of Juelz or ISOxo in intensity. IANY really put his whole force behind this track and it's one of my personal favorites on the compilation that I find myself coming back to again and again. DROPWIZZ continues the high-energy assault with 'ENCRYPT,' and ANOXEX maintains the pace, following with 'AOAS'. Both tracks are massive trap bangers that are sure to cause some rowdiness in the nyt club, so please watch those trap arms. KADENA is up next, where he summons an out-of-this-world 'D3MON,' full of gritty, dark, distorted basses that disorient you in the best way possible. 'D3MON' is not for the faint of heart, so listeners beware. 'VIBRATE' by ALPHA TRANSMISSION stays in the same realm, continuing the more experimental vibes on the NOT YOUR TYPE compilation with shifting basses and a flurry of chunky drums. TYPO decides to take us into space, gathering signals from multiple spacecrafts and mixing them to blast listeners into the stratosphere on his track, 'OFFSET.'
So we'll be stopping the tour shortly here for everyone to go get some water or snacks, go to the bathroom, and we'll finish the last half of the nyt club tour back here in 5 minutes…
Ahh, glad you all made it back. We're picking up right where we left off, with 'phew' by kuan. kuan brings us back down to Earth with warm basses that ease our descent and a classic trap beat that lets us catch our breath before Kizer tears into our speakers with 'Out Here,' a track so wet it naturally resides in a swamp. 'Fried' by Dink the Poof is decked out with swagger to the maximum with tight, wiggling synths and drums that make you put on your dancing shoes to step on the floor. Yen truly shows what a 'DEGENERATE' he is by absolutely popping off with a massive track fueled by yojas-esque shifted frequencies, jarring bass stabs, and a housey switch up on the second drop that really make this a stand out track on NOT YOUR TYPE. BAGG and Buzz Junior's collab 'Telestic' is a wonderful fusion of modern trap sounds and dubstep that brings the old-school 2010 dubstep vibes into the 2020s with a nice twist that pairs quite well with ASHEZ '10 Pounds Heavier,' as his track also brings a deep nostalgia to listeners to enjoy. 'The Portal' by Karezza beckons us to explore a mystical jungle of ever-growing sounds kept in check by pounding percussion, adding yet another banger to the compilation. Finally, we've reached the last track on the NOT YOUR TYPE compilation, 'Rn <33' from KUREI. 'Rn <33' is an excellent outro track for the compilation as KUREI gives us a silky trap track featuring rich, distorted 808s, and smooth vocals.
In summary, the nyt club has come out of the gates swinging quite hard for their first compilation. A tribute to the new era of electronic music, the NOT YOUR TYPE compilation is only a glimpse into what the future holds for all of the talented artists on the compilation, and the scene as a whole.
NOT YOUR TYPE is out now exclusively on Audius, with Soundcloud & all platforms coming soon. Check it out below.