Kaelin Ellis Ensures, Triumphantly, That 'THE FUNK WILL PREVAIL'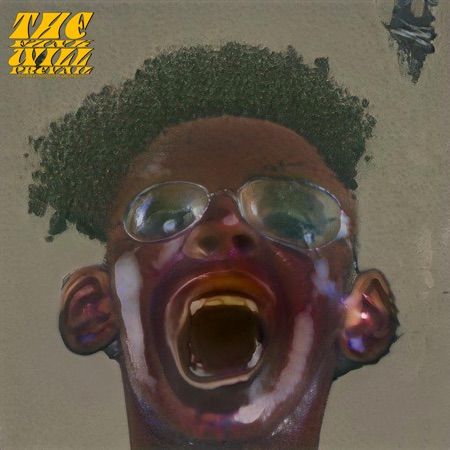 Wisdom, soul, and unpredictability. Three words that describe the effervescent, vintage-inspired production of Kaelin Ellis. The notable producer/instrumentalist/DJ's new album THE FUNK WILL PREVAIL speaks to all of this, with more theatrics (and little time) to spare. The album begins in a whimsical fashion, where a formant-shifted, alien-like voice directly addresses its audience. "Hello," the voice says (presumably Kaelin himself). "Do not attempt to skip this song. Any other movement will disrupt the force that is about to enter your bloodstream. That force is known as 'THE FUNK.'"
'THE FUNK' takes on full force as the album runs into its next track ('BUCK' with CARRTOONS and Kyla Moscovitch), with cascading synths and rising chords. The moment of anticipation is broken by proud hip-hop drums, jubilant trumpets, and an unmatched beat that only stops for a coo of satisfaction from the alien voice. 
The opening ends, and the next track ('CATS GROOVE,' a collaboration with Tony Rosenberg) begins with the same repeated mantra of "don't force the funk."  What follows is a funk-inspired instrumental, littered with interesting percussion. The track is subdued, precise, and decisive, as listeners are led down a winding, animated path by flute and piano. The next track ('HOME.cookin') is also transitioned in through vocal exclamation, and, over its minute and 16 seconds, creates an even more meditative path for listeners to enjoy. 
The track fades into 'LIL BIT,' a standout on the album and a previously released single. A heavier piece with churning 808s and a deep vocal that repeats the phrase "just a lil' bit not a lot." Heavily distorted synths pepper themselves in and use the stereo field to his advantage with heavily panned instruments. 
This is also the first track to feature a full verse from Ellis, and his words are tinged with pride, in his heritage, image, and sound. "I'm a funk-soul brotha with an attitude," he raps. "Got an afro pick with the glasses too/ Making music since the day I came up out the womb/ So write about it now let me introduce you." Indeed, the entire album feels like a deep glimpse into Ellis' world, as we are introduced to soundscape after soundscape that is immeasurably intricate and beautiful, pride well-founded.  
'LIL BIT' then blends seamlessly into 'TRIPPIN,' the next song off the album. Another unique piece, it begins with classical-inspired vocal chops and the delicate vocals from collaborators Max Oakley and Lulu V. The eclectic opening is soon replaced by more introspective, dream-like jazz, tinged by string samples that interplay with an electric keyboard, perhaps an homage to his days as a youth spent playing keys in the church choir. 
This time, the foreman-shifted vocals at the end of this piece tell the listener to 'SWING IT!', and then give way to the next track of the same name, a collaboration with Sw8vy. The song is in fact, swung, and is once again peppered with the unique percussion Ellis is so renowned for. Ellis oscillates between calming jazz, soulful hip-hop, and electronic idiosyncrasies that create an almost meditative state for the listener, a state that is furthered by the next few tracks, 'THE CALM', 'SLUMDOG', and 'DONT BE LATE'. 
The state is interrupted with the following 'GET RIGHT!', a tight and spirited RnB track with impeccable, inventive percussion, and impressive vocals from collaborator C.S. Armstrong. The track is over in a minute and 42 seconds this time, followed by 'BUSSIN' and 'SLANKY,' more bite-sized morsels of a delectable world Ellis has created. 
The album ends on the song 'ACT ONE', which is reminiscent of 90s hip hop with shuffle drums and a detuned piano, and a lead mallet instrument. The end of the song, by choice, doesn't resolve the tension, as exemplified by the last melody, as if suggesting music to come. Its title ('ACT ONE') serves its purpose and will leave listeners on the edges of their seats, for a future act two.
In all senses, THE FUNK WILL PREVAIL is a self-referential and thematic piece of Ellis' storied career, and a glimpse into the mind of an eclectic, self-motivated artist with few boundaries and many talents. With no song on the album being more than 2 minutes, each piece offers brief glimpses into a vibrant, funk-tinged world Ellis has cultivated for listeners, that feels every bit as careful as it is celebratory. 
Listen to THE FUNK WILL PREVAIL now and find it on your preferred streaming service here.