Guest Mix + Interview: SØMETHING – FUXWITHIT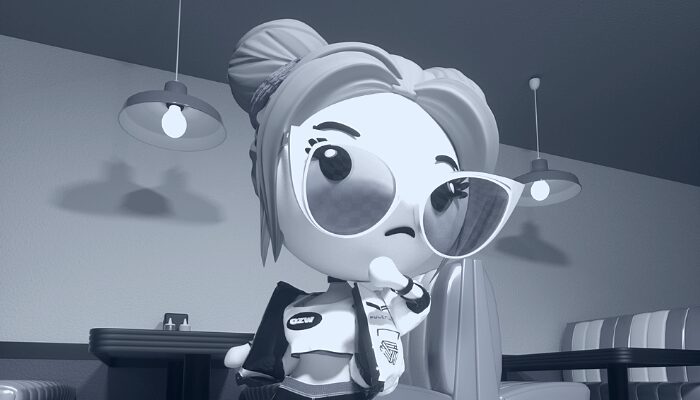 Portland, Oregon has a lot of hip, little gems; from the people to the art scene, Portland carries a unique vibe to it. It also houses a precious gem known as SØMETHING, who has been blowing up with their special take on 100 bpm, twerk/trap, booty-shaking anthems. With steady releases every month for over a year, you can always look forward to the 13th, when SØMETHING will get your hips moving with new tracks, like 'SHAKEMYASS'. Recently releasing on Quality Goods Records, 'Clover' with Jeffrey MMVIII, has garnered SØMETHING a status as an up and coming figure in the trap movement, and we're thrilled to have talked with them about their music, art, quarantine, and more. Prepare to bust your hips into the fourth dimension as SØMETHING gets you grooving for 30 minutes on their guest mix filled with IDs and originals, and check out the interview with them below.
Can you give us a glimpse into what you brought to this mix? Any special unreleased or tracks you really enjoy?
This is a strictly 100bpm mix consisting mainly of my own unreleased tracks and a few tunes from other artists who have cool 100 flows like Karezza and Jeffrey MMVIII. It also includes my 'Want It' remix and a track I created for a Japanese film.
You sample a lot of old school, classic hip hop vocals in your tracks, would you say you draw a lot of inspiration from that era?
Absolutely but, in reality the tracks I'm sampling weren't considered "old school" when I was a teenager going to shows, cuz those were older DJ's playing/sampling the 90's hip-hop from THEIR childhood. 50 and Lil Jon excluded, I didn't really start hearing the mid-2000's throwbacks at the club until like 2016. I specifically like the hip-hop that's sort of been embedded in the dance scene like Missy Elliot, Crime Mob, Dem Franchize Boyz, The Pack, Rye Rye.
So 100bpm. What is the obsession?
I was producing a lot of music at 100bpm before I ever paid attention to what BPM I was working at. I just liked the bounce and the versatility, the fact that you could make it sound slow or fast.
House, dubstep, DnB, midtempo, and halftime sorta all have their respective tempo ranges. 100bpm is a little more spread out. It can span from glitch-hop to moomba, but when you do trap at 100bpm it either becomes twerk or bounce music. During the Trap1 boom in 2012-2014 you had plenty of twerk artists like Bro Safari, Brillz, Kid Kamillion, and Yellow Claw but the sub-genre aged more poorly than the OG trap music itself. Meanwhile I always thought that was the sickest music so I'm attempting to take the baton and run with a Trap2 iteration of twerk music.
Your tunes have a very distinct sound to them, from the vocals you use to your drops, I can tell almost instantly when it's your track. How long did it take for your sound to develop?
I've been producing for over half my life but once I decided to double down on bass music I'd say my sound developed very quickly over the course of a year or two. When people describe "my sound" they're generally talking about the bounce and recurring sounds I sample in every track, but other than that I can't really speak on how I sound distinct because it's not exactly something I do intentionally. I'm not trying to sound different, I'm actually genuinely trying to fit in and sound like everyone else and am just failing miserably.
Has Covid-19 affected any of your plans?
I am very fortunate to say I didn't have a lot on my calendar. For once I am somewhat grateful nobody wants to book me.
How have you been surviving mentally during quarantine? TV shows, projects?

When it comes to TV shows I've been really inspired by some of the animators from Love, Death, & Robots. Zima Blue put me onto Robert Valley and Robert Valley put me onto Peter Chung, all with really beautiful animation styles. When it comes to surviving mentally I've realized if I don't get to dance every once in a while I'll start to waste away so if you play a virtual fest in the next months chances are I'm across the country dancing alone in my room without pants on.
Portland is a crazy place with the BLM movement and feds storming the place recently. How are you holding up? Are there any changes this brought in your life?
As terrifying as it is to live where a volatile police force and shady federal agents are being used as a literal army against protestors, it has also been incredible to witness my city's continuous passion and dedication to justice. The feds were removed a few weeks ago and demonstrations have been peaceful.
You release a lot of your tracks on the 13th of the month. Is 13 your lucky number or is there another reason for this?

I was born on Friday the 13th! Growing up my brothers teased that I was cursed with bad luck and I believed them. Later I learned 13 is only recently a symbol of bad fortune in Western culture. In reality, it's a really powerful number in art being part of the fibonacci sequence and completing an octave in a chromatic scale.
Outside of your music, you also make your own animations. Is your animation process similar to making your music or do you find other inspiration?
The music and this animated world are really closely related as I sorta build them around each other. It's an animated world I'd think my music would live in. I'd say the music and the animations are both reflections/recontextualization of past experiences.
Tell us more about the avatar you've created. You've given them a dope world in your animations, do you have a backstory for them?
Without wanting to give too much away, Lucky is a sort of caricature of myself who exists across a few different realities, one being an instance of earth where music is illegal. She also dresses a lot better than me.
You recently released 'Clover' on Quality Goods Records, was that a goal of yours for a long time? Any more labels you would like to release on?
Just Sable Valley, Slow Roast, and DeadBeats but those are probably a ways away.
If you got to eat dinner with anybody in the world, alive or dead, who would it be and why? 
My girlfriend cuz she is so cool and has a fat ass.
Tracklist:
SØMETHING – G5
SØMETHING x ASHEZ – ID
TOKYO JETS – SIX FLAGS (SØMETHING FLIP)
KUMARION – WANT IT (SØMETHING REMIX)
SØMETHING – ID
SØMETHING – ID
SØMETHING – SHAKEMYASS
SØMETHING – PISTON
SØMETHING – GHOST
SØMETHING – PISTON x CAMDEN
SØMETHING – ID (w/ MEDUSA ACAPELLA)
KID KAMILLION – BALLIN EVERY DAY
SØMETHING – ID
KAREZZA – ID
KAREZZA – GET DOWN
CAMOUFLY – PUMP IT
CRISIS ERA – EARTHQUAKE (JEFFREY MMVIII VIP FLIP) (feat. Stoppa)