Guest Mix + Interview – G-Space – FUXWITHIT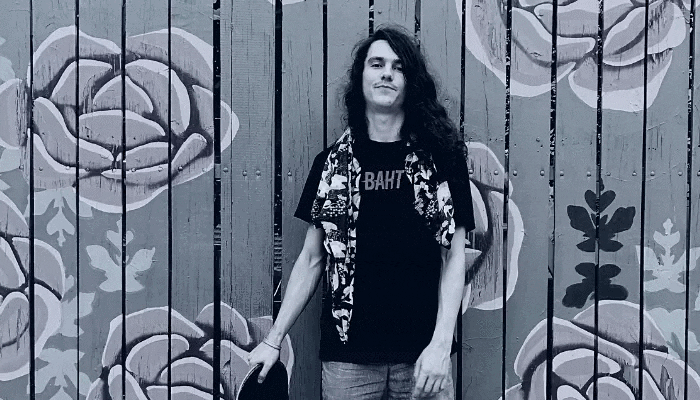 In the bass music world, you'd be hard-pressed to find a man with more raw artistic talent than Grady Bergin, also known as G-Space. Combining a multitude of instruments into his productions, he's crafted his own idiosyncratic niche into the community-at-large. Equal parts new-age wubby dubby mind-melting goodness, and sounds that make you reminisce on the times past, he's successfully struck all the right chords time and time again. He released his debut album Snap Season last year to critical acclaim, which he quickly followed-up this year with a massive performance at Okeechobee Music Festival and a stellar 11 track audible story in the form of Lucid Retreat. Now we've had the great pleasure of having him be the 132nd installment of our guest mix series, and we had the chance to catch up with him about his influences, his journey, and his latest release 'Bubblegum' with sfam and Eazybaked. Check out the full mix and interview for yourself below!
With such an eclectic and diverse use of sounds and instruments in your personal production, where do you draw your musical influences from?
I love jamming with a group of musicians, the most beautiful accidents can occur when everyone is improvising. My dad is a Grateful Dead head and I grew up listening to their live shows. It was always in my subconscious, and I learned to appreciate their jams much more as I got older. They always kept it fresh by playing different sets every night and often would transition from song to song seamlessly in the moment. My mom showed me a ton of music too and bought me CDs from Led Zeppelin, Moby, Paul Oakenfold to name a few. I also got the Lord of the Rings movie score on CD, and it inspired me to write music with choir and symphony elements. My music teacher in high school got me into the blues, and my music teacher in college got me into jazz. 
In your music credits, you list a large number of different musicians. How does that work with your recording + producing process?
Since high school, I would invite my friends and family over to jam, and often I'd record them into my production. I'd just give them headphones and a few tracks of mine to record a solo over. I've had people record saxophone, electric ukulele, harmonica, mouth harps, guitar, drums, voice, and any instrument. My goal is to perform with a symphony one day as I DJ my beats, and improvise on a grand piano. I love how limitless music is. 
In past interviews, you've stated that you got started playing the keyboard at a young age. What initially got you interested in it, and what made you continue with it?
My parents saw me playing with a keyboard when I was an infant crawling around at a family party. They've been supportive ever since and bought me a few keyboards during my childhood. I mostly taught myself my own riffs and I've reached a point where I can just improvise and express myself. I'll always continue playing because it has become such an emotional outlet for me. It's a form of meditation when I am just playing in the moment, coming up with new ideas and riffs. I've been teaching myself to play guitar the same way, and it's been a blast recording that into my beats.
Why do you personally believe music as a communal force is so powerful, and how do you emphasize that quality in your own productions + fan base?
Music can make you feel limitless at times. It connects us all, and it also holds some of our fondest memories. I pour so much emotion into my music and try to tell a story of how life is just a balance of the light and dark. I feel like my piano solos are saying, "life is beautiful and it can also be sad but there is always hope, and to never give up. It's all part of it." I've personally had people reach out to me telling me that my music saved them from suicide. Something like that is the most powerful thing anyone has ever said to me. It makes me feel like I'm fulfilling a purpose here and keeps me going. I will always create music because I can express myself, but my fanbase has awakened a much deeper purpose within me. I want to heal as many people as I can with music, and continue to inspire world peace by bringing people together.
How best can fans support you and your project in these tough financial times for all musicians?
I'm grateful to have such a supportive fanbase. My whole discography is on Bandcamp, and I have some more merch drops once a month. A quick way to support is donating to: PayPal.me/gspacemusic
Throughout the duration of quarantine, you've been pumping out an extremely diverse array of immaculate mixes. What gave you the idea to start doing that initially, and how did you go about deciding the overall theme and energy of each?
I spent a lot of time home with my family during quarantine. My dad always looks forward to me playing a set when I'm home, we blast the speakers and I just freestyle a mix. Since I had so much free time I would just play a set everyday and record it. I ended up making over 16 mixes in a short amount of time. I tried not to repeat that many songs, and they were mostly original songs and plates. Now I'm just hungry to make some new music now. A lot of my unreleased music I'm already sick of because I've been rinsing it so much. But it's normal, the only way to snap out of the funk is to create new music and push my creative abilities.
Your last release 'Bubblegum' is a saucy heater of a collab with Sfam and Eazybaked! Can you tell us a bit about the creative process that went into that, and what it was like putting your head together with 2 other groups?
Originally that was a song between Eazybaked and sfam. I was hanging out with them one day while they were working on it. I randomly got an idea that I thought would sound good, and asked if I could draw in a filter automation on one of the leads. It came out better than I expected and we used it as the main lead in the drop. Michael from sfam laughed and was like, "okay I guess this is a 3 way collab now!" It's funny how it all came together like that, and now we have an official remix ep coming out soon that I'm stoked about.
What are you most looking forward to when live shows start back up again?
Being able to gather together for the love of music is a beautiful thing. The fact that music can bring all types of people together from different backgrounds, ages, ethnicities is a glimpse into world peace for me. We need more of that on our planet, and I really hope we can return to that again.
Clue us into what you've put together for the guest mix you've done for us today!
Today's mix is almost all originals including my favorite unreleased plates. There's my piano solos, my Uncle Mike on the harmonica, my high school music teacher on the saxophone, and some of my recent guitar playing. It ranges all BPMs and was a fun mix to freestyle, I hope y'all enjoy!
Tracklist:
G-Space x Visual.9 – Sticky Widdit (feat. Brío x Ruku)
minesweepa – thots
G-Space – Core Being (feat. Uncle Mike)
G-Space x Cavemen – On The Block
G-Space – Reanalyze
G-Space – The Robbery
G-Space x Eazybaked x sfam – Bubblegum
G-Space – WHO GON CHEQ ME (feat. Wreckno, Ruku, lysn.)
G-Space – Rock Bottom
G-Space x Eazybaked – Facelift
guppi – lungs
G-Space – Okay Fucked Up (feat. Dutchy)
G-Space – ID
G-Space x WooK – Steamroller
G-Space x WooK – Steamroller (Nosium Remix)
G-Space x Esseks – ID
G-Space x WooK – Steamroller (Vide & Eazybaked Remix)
MiDi GANG x Jeffufu – IGNANT DYNASTY
G-Space x smith. – Something Gangster
G-Space x smith. – Something Gangster (Zeplinn Remix)
G-Space – Hong Kong Filth
G-Space x Subdocta – ID
G-Space – yoyo
G-Space x tiedye ky – Space Cowboys (feat. Pipus)
G-Space x tiedye ky – Space Cowboys (feat. Pipus) (HUMORME REMIX)
G-Space – LIFE (feat. Dutchy & The Economist)
G-Space x Abelation – Never Before Been Done
TVBOO – Flava (G-Space Remix)
G-Space – ID