Guest Mix + Interview – blurrd vzn – FUXWITHIT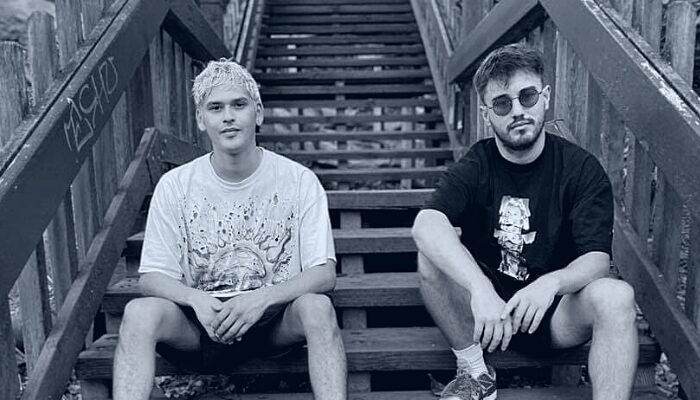 San Diego, California's triumphant twosome of Johny Angelo and Oscar Villa, also known by their blurry alter egos blurrd vzn, have been eviscerating sound systems for the better part of two years now with their unique concoction of bombastic bass music. Their first release 'Ballerz' got insane amounts of air-time at last year's Wakaan fest, and has been steadily rinsed around the music ecosystem ever since. Stacking up releases like an arsenal for an entire army, they've consistently shown that they can replicate a pristine degree of production quality, while also keeping that same gritty, grimy, gross aesthetic that is oh-so-appealing to the ears. This group has been one that we've had our eyes on for quite some time now, and we have the fantastic news today that they've now become the 128th installment of our guest mix + interview series. You can expect nothing but the hottest of beats from this guest mix, with an absolutely ludicrous amount of unreleased music. To all the fans, you really don't want to miss this one. Check out the full interview and their guest mix for us below!
Where did you both grow up? And how did that area/community help shape you into who you are today?
We both grew up in San Diego, California. Growing up here definitely showed us that life can be rough at times, but having a positive outlook can make a huge difference.
What first inspired you guys to start creating music?
Both of our older brothers were really heavily into music whether it be producing or djing so definitely seeing that growing up sparked something inside of us.
How long have you guys been friends? And when did you start producing together?
We've been friends for about 10 years now and we started the blurrd vzn project about 2 years ago.
What was it about heavy bass music that got you wanting to start making it in the first place? 
One aspect that got us into bass music is the similarities it has with hip hop music. We both were heavy into producing hip hop music so when we saw the similarities or how producers would mix hip hop with bass music , that kinda sold us into the word of bass music.
Your latest release 'Jewelz' is an absolute belter of a track! Can you tell us a little about the creative process behind it? 
We had that first drop made for a while and we weren't sure if we liked it or not. But we started messing with the drop and kinda realized "oh we might have something here," so we decided to make a second drop. But we wanted the second drop to be a complete switch-up of the first and wanted to make it as unique as possible, so we threw in the house vibes and then brought it back to the trap. 
What artists do you listen to outside of electronic music?
MF Doom, A$AP Rocky, Tyler The Creator, Timbaland, J Dilla, all of TDE, and Flying Lotus. 
Who are some of your guys' favorite acts to see live?
For sure Excision, Flume, Peekaboo, UZ and of course Flying Lotus .
You have an EP dropping soon! Can you give us some insight as to what we should expect, and the inspiration behind the project?
Expect a lot of hip hop influence and freeform sound design. And we wanted this EP to kinda give people an inside look of the mind(s) of blurrd vzn. A couple songs were produced after certain tragedies that happened to us this year so this EP kinda helped us as well push through and stay strong.
Walk us through the guest mix you guys did for us today! 
So the mix starts off with a lot of freeform sprinkled with our interpretation of trap music, followed by hip hop inspiration throughout. Then it gets a little heavier with tons of trap bangers that we love and then we end it off with some of our heavier IDs. We hope you guys enjoy the mix! We really appreciate all the opportunities FUXWITHIT has given us and for that we will be forever grateful.
Tracklist
ID – Rauchle x blurrd vzn
Let em drip – Hydraulix ( blurrd vzn flip )
Break – Blvk Sheep ( blurrd vzn remix )
Ball so hard – Dropwizz
Fearful – Blvk Sheep ( yojas x WeRose remix )
Toasted – brunchbeatz
Bad man – code zero
ID – blurrd vzn x WeRose
Powermove – peekaboo ( blurrd vzn flip )
ID – lyny x blurrd vzn
ID – dank frank x blurrd vzn
ID – blurrd vzn
Overdose – krischvn ( sytrux flip )
City boi – blurrd vzn
ID – blurrd vz
ID – blurrd vzn x elderbass
ID – vlcn x blurrd vzn
ID – blurrd vzn
Flex – josh cassidy x wraith
Blood – gawm
Artillery – hollimon x mvung
Extinction- artifact
Dabsdabsdabs – cvptvgn ( leet x MeSo flip )
Drava Dance – HOL!
Despacito 2 – howker x cvptvgon
Fuji Opener – Skrillex ( glitter soda x lowkey )
ID – blurrd vzn
Underground – elderbass
Bop – gawm x bernz
Conflict – automhate ( eater remix )
ID – blurrd vzn x jonnie boi
Trap Nasty – kidd trouble ( goofy remix )
Came in this – vrg
Came in this – vrg ( jairu flip )
Flabbergast – chomppa & cvptvgon ( vlcn remix )
See You Again – Tisoki & MineSweepa ( nvadrz remix )
Moth – Eater & Edo
CUT THAT SHIT – ELDERBASS
ID – blurrd vzn
ID – blurrd vzn
Throw it up – blurrd vzn
ID – blurrd vzn
Run up – NVADRZ & Alias
ID – blurrd vzn
Innocence – Nero ( blurrd vzn remix )
Jewelz – blurrd vzn
ID – blurrd vzn
ID – blurrd vzn
ID – blurrd vzn