Eyezic Soars To New Beginnings With 'Just Try' – FUXWITHIT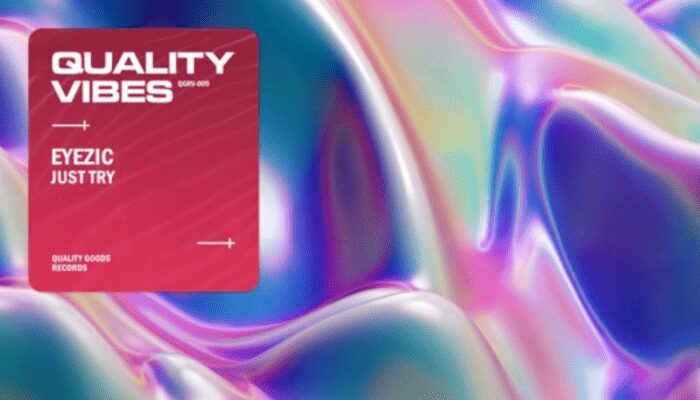 Making his return to Quality Goods Records, Eyezic bestows a priceless treasure called, 'Just Try.' An enriching and everlasting track of pure melody and might. Grabbing the audience's heartstrings, and leaving them in tears. This is a beautiful and powerful return from the producer, as he's continuing to work on some of the most inspiring work to date. Blessing us once again with another fun and gorgeous environment of frequencies. A perfect way to close off the year on such a high note.
Eyezic has had quite a successful and beautiful 2021. From teaming up with hard-hitting labels Electric Hawk, Jadū Dala, KUMO Collective, and more, to collaborating with incredible musicians like Colson XL and Brainrack, the excitement from his journey never stopped and continued to grow even larger than ever. Paving an organic path to untold possibilities. Making his audience want more and more with each tune. There's no stopping this mad man from living out his dreams while blessing his listeners along the way. And with this newest single, he's tearing down boundaries once again and taking the industry by storm with every given moment. So prepare for another classic and instant gratification from the icon himself.
'Just Try' is a bounce-infused dream of wonder. Completely paying homage to his success and passions as well as the spirit of the label itself. Showcasing another unique side to the name. From a calm and soothing introduction to a glistening chorus containing the artist's unique flare, it's a captivating adventure you'll remember for a lifetime. And the angelic vocal adding extra amounts of groove and character really pushes the track to a new light. Making everything flow together into one stream of perfection. Impactful drums, colorful sound design, and more, you'll be mesmerized with glee and happiness. You can tell he had a lot of fun creating this specific piece. The strong nature alone brings back enchanting memories you thought were lost. Making your soul and aura sing with each play. We're very excited to hear what 2022 brings for Eyezic and his dedication to the arts. But for now, make sure to go support by streaming 'Just Try' everywhere via Quality Goods Records!