Space Yacht Explores New Paradigm of Digital Media [Interview] – FUXWITHIT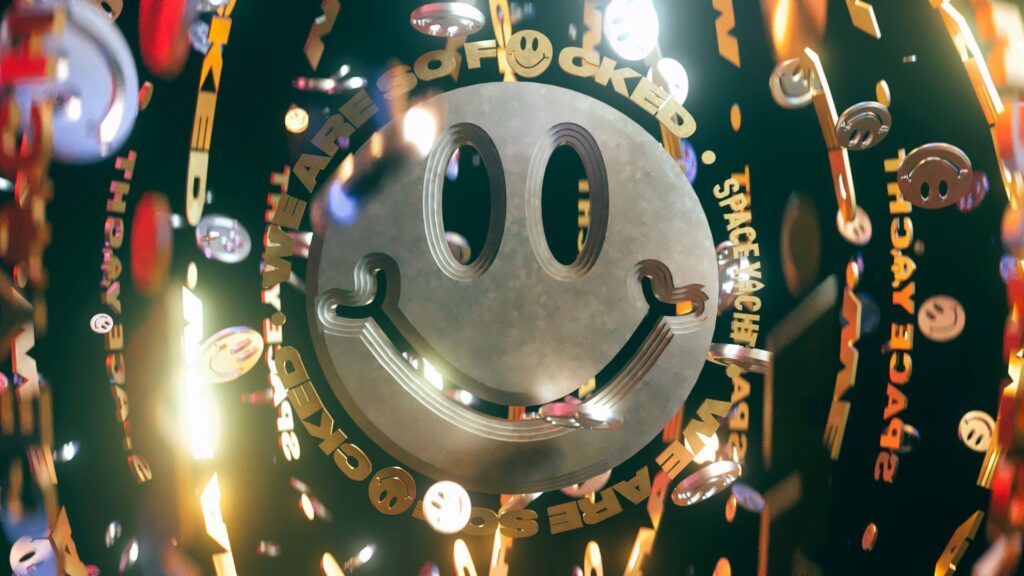 You might know them from their distinguished global party series, delightful Twitch streams, or their eclectic record label… but what you might not know is that Space Yacht has also taken the dive into the digital art world. The stewards of electronic music culture made a massive splash this summer with a record-breaking sale on Nifty Gateway, a marketplace for blockchain-based artwork, selling out over 230 pieces in less than two and a half minutes. They returned in the final days of 2020 with a spectacular second drop; an audio-visual art compilation called the Iconography Collection. The organization has continuously been at the forefront of inter-dimensional music business, and this venture into newfangled territory is no different.
Space Yacht culture was built around vibrant underground after-hours events and electronic music and has grown to embrace a boundary-pushing mentality of what it means to be an organization in the modern music industry. Having orbited the space as art collectors themselves, founders Rami Perlman and Henry Lu have a unique appreciation for the explosive crypto-art expanse. In spite of the many obstacles that riddled the music industry in 2020, they successfully migrated to the digital realm and brought their vivacious community along for the ride. In an industry where live music is the primary source of income for most, Henry and Rami wasted no time pivoting their focus towards alternative revenue streams for the artists they champion.
The electrifying pieces feature original 3D visuals and music that embody the imaginative nature of the Space Yacht brand. Built on a blockchain primitive called NFTs (non-fungible tokens), the artworks are among a rapidly growing classification of advanced pieces that are truly owned by the collector outside the confines of any single platform or company. This new form of cryptomedia has generated millions in revenue for creators who previously struggled to be compensated fairly for their art, enabling them to further pursue their creative endeavors. We linked up with the captains of Space Yacht to share their journey from the high seas of live events to their latest undertaking into a new paradigm for digital media.
Howdy – thanks for chatting with us! Can you tell us about the origins of Space Yacht?
HL: We started out bonding over house music when us founders (Henry Lu and Rami Perlman) worked long hours at our jobs at one of the first viral marketing agencies. An opportunity came up for us to throw an event. Henry had thrown parties in college, and Rami wanted to DJ (he goes by LondonBridge). The first event was a hit, and the venue owner demanded that the concept become a weekly. We've thrown parties every single Tuesday in Los Angeles for the past 5 years, and we built a solid reputation for being spot-on curators in the electronic realm.
Our community is everything. If there's any reason to take risks at all, it's for them.
What did the journey to becoming an established events company entail?
HL: For companies in general, it's consistency. For Space Yacht specifically, it's our willingness to take risks, our taste, and our unique way of doing things. For a weekly party in the heart of Hollywood, we were probably the most anti-Hollywood. And for folks who came from marketing, we had a very anti-marketing approach to all things Space Yacht (no announced lineups, dropping flyers 3 hours before the show on purpose). These things would make a modern marketer sick to their stomach. A lot of our weird strategies, design ethos, and approach have been adopted by folks all around the world, and I think our influence to them comes from our consistent look and our willingness to take risks, especially when we were relatively small.
RP: On top of that, we try to put the interests of our community first–this includes folks who are artists starting out, young managers and industry folk who seem to be fighting for the culture, and the sort of people with a bit of vision. We owe it to those who said "yes to Space Yacht" and took a chance to come by either as a performer or attendee. Our community is everything. If there's any reason to take risks at all, it's for them.
How do you think in-person music events will unravel over the next 1-5 years?
HL: In-person events will come back, and I'm sure they will have new standards for safety, but I think that's by and large expected by now. Here's something I think is a bit more interesting–we expect a ton of folks who will be very accepting of super immersive virtual experiences. Even now (it's January 2021 as we write these responses, 11 months into quarantine), we are still barely scratching the surface. Ten months ago, most people wouldn't even bother to think about this. We're talking to a ton of folks who can help us push experiences not only in the context of our everyday Default Reality, but into Extended Reality, Augmented Reality, and Virtual Reality. I have no interest in wasting our time fighting the CDC on how I can "get away with" doing limited capacity events. We will do them when our time comes. Right now, the whole team at Space Yacht is united in leaning into our obstacles, adapting to them, and learning how to turn them into opportunities for us and our industry.
Five years ago we were concerned about getting people to fill up a nightclub–this is the least of our worries now.
How has Space Yacht evolved to meet the challenges posed by COVID?
HL: Expanding a bit more on what I alluded to above, quite literally the first week of quarantine, we froze all operations immediately so that we could make informed decisions. We had the choice of committing our time fighting our own governing agencies and trying to "get away with" silly technicalities, or we could carry forward our mission in a space where we knew we could continue to thrive–that was in the digital space for us. We became super serious in e-commerce and increased our revenue creating rave-inspired streetwear. Then we started laying the foundation for a multi-genre label, once again deeply promoting the artists who we would have booked to play our shows anyway. Then we developed business in crypto, and crypto products (which are powered by blockchain technology). These all tie back to our mission to be stewards of electronic music culture, but we are noticing that as we get more experienced, we are becoming more strategic and operating at a higher level, impacting cultural infrastructure at large. Five years ago we were concerned about getting people to fill up a nightclub–this is the least of our worries now.
RP: Our days are chaotic because there's almost no rhythmic routine. But it's super exciting.
Was there anything that surprised you about your first NFT drop on Nifty Gateway?
RP: We've both been huge fans of the crypto-art space and had been collecting ourselves before we did our first drop over the summer. I think our biggest surprise was how quickly the collection sold out and how we were embraced by the existing NFT community. There are so many awesome people in the community and I think our mix of visuals and music give us a unique voice in the space. We also love the fact that crypto-art gives Henry and I another avenue in which we can be creative with our brand.
What makes crypto-art valuable?
RP: It all starts with the quality of the work and a unique point of view. Just like physical art, the market determines the ultimate value. If someone is willing to pay $200 for a piece and then someone buys it from that person for more, then the market is setting the value. Just like physical art, the clout of the artist and marketing has a lot to do with why some pieces are more valuable than others. But at the end of the day, the imagery, animation and or concept has to be great for it to have any value.
Why does it make a difference if these items are stored on a blockchain?
RP: The blockchain enables people to actually OWN the art and is the mechanism through which each piece is authenticated via a unique token known as an NFT. Just as a painter signs and numbers a piece of work to show authenticity, an NFT uses the blockchain to do this with digital art.
I think it has to do with the high visibility of the crypto space in popular culture as well as the fact that people love to collect things. Just like people collect sneakers or Pokeman cards, NFTs are a new way for people to collect.
Why do you think blockchain-based art has taken off so much recently?
RP: I think it has to do with the high visibility of the crypto space in popular culture as well as the fact that people love to collect things. Just like people collect sneakers or Pokeman cards, NFTs are a new way for people to collect. We have all been buying digital goods for years whether it be an app, MP3 download or cool skin in a video game. For digital natives, ownership of a digital good is not a new concept.
Do you think this is a trend? Are limited edition collectibles a viable long-term form of revenue for musicians?
RP: We feel strongly that NFTs will become a part of the music ecosystem. We love the idea of being able to sell limited edition master prints of tracks. We don't see it replacing streaming or existing methods of listening to music. Instead, we think of it as additive and a new way for people to collect and support the artists they love. And yes, for some, it will be a new source of revenue, but just like the traditional music business, musicians will still have to create music and a brand that people connect with on an emotional level in order for anyone to want to buy their NFTs.
---
There's no shortage of inspiring new tools for creators to monetize their work using cryptocurrency, and it's encouraging to see renowned curators like Space Yacht making waves in the space. The more we can educate and usher existing communities into new realms of digital ownership and commerce, the more artists and creatives we can support. We're grateful to be along for the ride and are beyond excited to see the inventive experiences Space Yacht has in store.